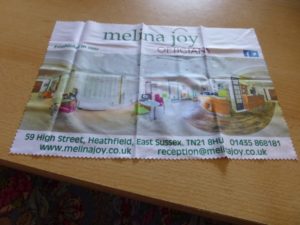 How often have you been to an exhibition and come home with a bag of gifts including odd pens and pencils that you throw away?  You may also have been given sweets, highlighter pens and pads of paper which may be useful but are not memorable!
For anyone who runs a small business it can be a nightmare to find an original and useful promotional gift, at an affordable price.  I would suggest that for a promotional gift to be effective it needs to include the following :
• Relevance to your business ie a USB from an IT company
• Personalised to your business ie business name and website
• Good quality – to reflect the quality of your business
• Easy to use for a specified purpose ie diary or desk diary
• Useful – ideally something kept with you ie secure credit card holder
• An original idea or an enhanced version of something  ie pen with a presentation pointer rather than just a pen
This morning at Heathfield Chamber Breakfast I was given a fantastic promotional gift from Melina Joy Opticians. It is a small pocket sized pouch with a glasses cloth inside. The cloth is a generous size, very colourful and feels like a quality item.   It also has a picture showing the inside of the showroom and useful contact details.  The cloth can be folded to fit in a glasses case or kept clean in the plastic pouch provided.  I personally don't wear standard glasses however I am torn between keeping the cloth for sunglasses or passing it on to a family member who wears glasses on a daily basis!  Great job Melina – a really effective gift – especially when it was combined with a spray to clean glasses!
For original promotional gifts contact  Shirley Price – www.yespromoproducts.com
For an eye check or glasses contact Melina Joy – www.melinajoy.co.uk
www.barbara@barbarahibbartcoaching.co.uk 18.07.2018